Romans 15:26-27
P.O. Box 564 Pearland, TX 77588
Phone: 713-624-0943
What the LORD is doing...
A Note from Blessing Israeli Believers Co-Founder Dov Schwarz
Dear BIB Friends and Partners,
First, I want to thank so many who have contacted me to inquire of my well-being as my last letter shared plans for my October 8-20 Israel trip. Of course, you received the letter well after my planned departure. Yet, I wanted to send an update for everyone who receives this letter.
My wife and I were awakened at 3:38am October 7 by friends in Jerusalem who are a brother and sister in Messiah Yeshua (Jesus). They were in their bomb shelter informing us of the Hamas attack. Long story short—due to complications of my plane flight I was not able to take my trip. Thankfully, before sunrise that morning in Texas—here is the word the LORD gave me to stand upon and you can stand on it with me!
So instead, after praying about what to do, I went into my studio late that Sunday evening October 8 and recorded an urgent TV program explaining this war from its Biblical perspective. I encourage you to watch it on my Youtube channel Watch Therefore. It is called "Israel At War."
In the midst of the legitimate Israeli response to the Hamas massacre to protect the Israeli Land and people I also thought it important to share in this letter very important information that you may have never heard—from the perspective of a Jew who also believes in Messiah Yeshua. It is absolutely necessary for Israel to destroy Hamas and there are historical truths that are still with us today—even more so!
Some may be asking why the world is exploding with anti-semitism while Israel is simply fighting back after being viciously attacked in the most barbaric manner. Here is the reason and please remember this in the days ahead. Here are two primary principles:
1. Many in the world support or at least tolerate the Jews while their bodies are stacking up in times of anti-semitic attacks. But when "those Jews" fight back and could even actually defeat their enemies—the world that is under the sway of the wicked one (1 John 5:19) goes hysterically mad! This is so important to realize because unlike so many other times—this time Israel cannot and will not allow Hamas to remain in Gaza.
2. Any spirit that denies the Father or the Son Messiah Yeshua is a spirit of anti-christ (1 John 2:22). Islam and the Quran tells its followers that allah is god and allah has no sons. Islam at its core is anti-christ and that spirit of anti-christ is enveloping the earth right now! And guess what else—that spirit hates you as a disciple of Christ Jesus as much as it hates the Jews.
Thankfully, He who keeps Israel neither slumbers or sleeps and He also will never leave or forsake those in Messiah Jesus!
In His Service, Dov Schwarz
---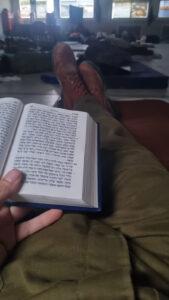 An Update from Ariel & Shayla, Tree of Life Israel
Israeli Soldier Bombarded with Mortars, but Blown Away by Jesus
David contacted us from the battlefield on the tense border with Gaza, "I'm getting bombarded with mortars as we speak!" he said to our team member, Daniel. "I hope I will make it out alive."
David is 28 years old, single and secular from Tel Aviv. He used to define himself as a "complete atheist," but lately he began a spiritual journey – he delved into Orthodox Judaism and even Buddhism. He was also bouncing between our evangelistic videos and the counter-missionary videos of others until one day, on Yom Kippur (the Day of Atonement), he declared to himself, "It's either Yeshua or atheism!" David asked God for a definitive sign whether Jesus, Yeshua, is the Life and the Truth. He opened the New Testament and began reading the Gospels of Matthew and Mark.
"When I finished reading Matthew, I felt full of peace and joy," David exclaimed. "I felt that same force pull all the anxiety and pain out of my body and felt a complete calm that I had never felt before! After reading Mark, I know Yeshua is the Messiah." David decided to confess Yeshua as Lord and Savior, then he said excitedly, "I feel like I'm part of the team now! But I still need to be baptized."
After the October 7th massacre, David was called up for reserve duty in a combat paratrooper unit. There, on the border, he contacted Daniel with his concerns. He was surrounded by religious Jewish soldiers praying from the traditional prayer books, wearing the prayer garments, and phylacteries (boxes with texts from the Hebrew Bible in them). David was anxious, "I'm worried that believing in Yeshua would be a betrayal to my people. I'm afraid that I would be cutting myself off from the nation by following Yeshua."
Once again, David asked God for a sign to affirm and embolden his belief. What happened in response is a testament to God's faithfulness to act in mysterious and beautiful ways. Out of nowhere, a family member on the other side of the planet who never talks about God, suddenly reached out, saying, "David, just to let you know, I'm praying to God and Jesus to help you. "Upon hearing this, Daniel exclaimed, "That's the sign, man, the one you asked for!"
David wants to spread the Gospel so all our people will know our Messiah. In fact, he's been sharing about Yeshua there in the army. He shared Isaiah 53 with his Orthodox Jewish friend, and his friend couldn't refute his point that this is about Yeshua.
In the midst of the war, David (like King David) proclaimed, "I'm trusting in God, that He will keep me alive so I can continue to study the Bible."
Amen! Let us pray in agreement for David for protection, for growth in his faith, and that he would be a light in the midst of the darkness he's facing.
---
Watch Therefore and Be Ready TODAY - 2nd Edition
Receive a complimentary copy as a thank you with your generous gift of any amount.
Please be sure to note "WTBR Today" in memo/note section of check or MO or in comment section for online donations.
Click Here to donate!
---
Don't forget: Watch Therefore Television Program
Now on CTN, NRB-TV, and Inspiration TV
Check Cable, Satellite & Local Listings for days & times
Visit www.WatchTherefore.tv
Also find us on social media:

Listen on the GO with audio Programs from SoundCloud!

Romans 15:26-27 For it hath pleased them of Macedonia and Achaia to make a certain contribution for the poor saints which are at Jerusalem. It hath pleased them verily; and their debtors they are. For if the Gentiles have been made partakers of their spiritual things, their duty is also to minister unto them in carnal (material) things.
Send your tax deductible gifts to:
Blessing Israeli Believers
PO Box 564, Pearland, TX 77588 USA
Phone: 713-624-0943
Email: [email protected]
Or donate online at:
www.BlessingIsraeliBelievers.com
Blessing Israeli Believers is a division of Watch Therefore Ministries, Inc. a 501(c)3 non-profit organization.